Tips for Getting Around in Washington, D.C.
Visiting Washington, D.C., is a memorable experience. As the United States' capital, D.C. promises not only historical monuments and museums but plenty of traffic as well. That's why it's important to think carefully about how you want to get around D.C. To help you plan your visit, check out these tips for easily getting to and from the sights you want to see.
Use Your Own Two Feet
If you book a hotel that's close to the monuments and attractions you want to see, you can walk to them. Just a short walk from the Smithsonian National Museum of National History, the National Mall, and the U.S. Capitol grounds, you'll find multiple chain hotels. Hotels by brands such as Hyatt, Marriott, and Holiday Inn sit within an easy walking distance of some of D.C.'s most popular tourist spots. The biggest perk to walking? There's no cost. The downside? You may tire out more quickly, especially if you do a lot of walking when it's hot outside.
Hire a Private Car Service
For the convenience of door-to-door service, hire a private car service. You can choose from various luxury vehicles for small or large groups. Book a driver to get you from Point A to Point B, or hire a car for an afternoon of sightseeing. A professional chauffeur navigates traffic and drops you off at the ideal spot for getting tickets or entering a museum. With a private car service, you also don't have to worry about parking or directions. You simply sit back and enjoy the ride in the pristine cabin of a luxury vehicle.
Take the Metrorail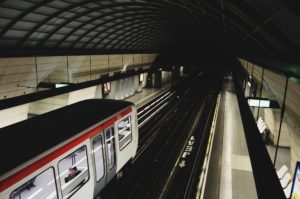 D.C.'s subway system is called Metrorail. Besides walking, the Metrorail is one of the cheapest ways to get around D.C. With trains running before daylight and well past midnight, you can count on the metro schedule to get you where you want to go. Weekdays bring peak ridership in the morning and evening, which translates into higher fares. If you plan to use the metro as your primary means of transportation in D.C., buy a metro fare card online before your trip. Once you have your SmarTrip card, you're ready to go. However, know that one of the potential drawbacks to the metro is the frequent breakdowns of the escalators going in and out of stations.
Ride a Bus, Tram, or Trolley
If you're feeling adventurous or simply don't like the idea of riding the underground rails, hop on one of D.C.'s buses. Because of heavy traffic, it's best to ride buses on the weekends and during non-peak hours on weekdays. Metrobus requires exact change if you pay in cash rather than with a SmarTrip card.
Tourmobile is a tram service that lets riders enjoy all-day service for a flat fee. It reaches about 20 of D.C.'s most popular tourist attractions, including Arlington National Cemetery. If you want to go farther downtown to the National Cathedral and National Zoo, check out Old Town Trolley Tours. It's a charming way to see D.C.
Though there are plenty of options, hiring a private car service provides the most convenience for your money. Contact Premier Sedan Services, Inc. to schedule your driver.